Koen Dhondt
Koen Dhondt is one of the leading dance teachers for couple dancing in the Western-European folk dance scene. He started at age eleven with international traditional dances, then became involved in Flemish folklore, but went in a new direction when in 2001 he got to know the folk dance scene in Portugal.
Since that moment Koen (with his characteristic drive) strives to develop this passion, and to share it with others. Each year, he participates in various international festivals and workshops, and builds up a vast knowledge and experience with dancing. In addition, he studies tango and dances on the stages of Bal Moderne.
Without a shadow of a doubt, Koen Dhondt has shaped the development of the folk dance scene in Belgium through his weekly dancing classes (over 3000 hours since 2002!) and the countless initiations he has given.
His university degree in languages (French, Spanish & Portuguese) and his expertise as a language teacher came in handy for this polyglot when teaching summer schools and workshops in seven countries. Koen uses targeted exercises, handy tips, attention to detail and individualised feedback to teach his students to guide and follow smoothly. The focus on a pleasant group dynamic, variations in teaching methods, an unlimited supply of patience and a spoonful of humour ensure a pleasant learning process.
The association Frisse Folk (which Koen founded), enriches the folk offering in the main Belgian cities with an impressive amount of classes and workshops with dancing teachers from Belgium and abroad. Since 2005, Koen (in his capacity of artistic director) programmes high-quality folkbals, with special attention to the various traditional repertoires. Also as a folkDJ, he creates the perfect conditions for an evening filled with dancing joy.
Koen Dhondt est un des professeurs les plus reconnus pour les danses de couple folk d'Europe occidentale. A 11 ans, il débute avec les danses des Balkans et d'Israël, et il poursuit avec les danses folkloriques flamandes. Il change radicalement de direction lorsqu'il découvre le milieu folk au Portugal en 2001.
Depuis lors, Koen met tout en œuvre pour vivre pleinement cette passion et la transmettre à d'autres. Il participe chaque année à plusieurs festivals et stages internationaux et se constitue ainsi une très riche expérience en danse. Il se lance également dans le tango et anime lors de Bals Modernes.
Koen a sans aucun doute laissé son empreinte sur le développement de la scène folk en Belgique. En effet, depuis 2002 il a donné plus de 3000 heures de cours de danse folk hebdomadaires et un grand nombre d'initiations.
Ses études universitaires en langues romanes et son expérience en tant que professeur de langue ont bien aidé ce polyglotte passionné à perfectionner ses stages de danse, qu'il a déjà donné dans sept pays différents. Avec tout un arsenal d'exercices, de conseils pratiques et de corrections individuelles, Koen enseigne à guider et suivre de façon aisée et efficace. Son attention pour les détails et pour les dynamiques de groupe, sa patience infinie, la variation des méthodes et une touche d'humour rendent l'apprentissage de la danse agréable et amusant.
A travers l'association Frisse Folk qu'il a fondée, Koen a organisé un nombre impressionnant de cours et de stages avec des professeurs de danse nationaux et étrangers. Il enrichit de cette façon l'offre d'activités autour du folk en Belgique, notamment en tenant compte de répertoires traditionnels spécifiques. Lors des soirées DJ qu'il anime, et les bals folk de qualité qu'il programme depuis 2005, Koen crée les conditions optimales pour une soirée de plaisir intense de la danse.
Cours de danse hebdomadaires
Plus de 3000 heures de cours de danse hebdomadaires depuis 2002!
Cours à Bruxelles, 2 soirs par semaine, 34 semaines par an, non stop depuis janvier 2002.
Cours à Anvers, 1 soir par semaine, 34 semaines par an, presque non stop depuis janvier 2007
Cours à Gand pour Boombal, 2003-2007
Stages intensifs - Belgique et étranger
Une dizaine de stages par an, organisés par Frisse Folk depuis 2008
Tous les ans, une semaine de stage intensif durant l'AKDT (Académie d'été de Neufchâteau, Belgique), depuis 2008
Tous les ans, unun week-end de stage de danses à Enschede (Nl) depuis 2007
Un week-end de danse à Milan (It), 2015
Un stage de danse à Freiburg (Siebenschritt) & Königsfeld (All), 2014
Week-end de stage pour débutants à Libramont (Be), 2014
Stages de danse près de Padoue et Venise (It), 2010 & 2014
Stage pendant la célébration des 10 ans de Naragonia à Louvain (Be), 2013
Stage de danses à Erlangen (All), 2013
Coachings via Danspunt pour le groupe de danses folklorique de Humbeek (Be), 2012
Stage intensif d'une semaine lors du Stage pour musique folk à Gooik (Be), 2011 & 2012
Série de stages de danse à Temse (Be), 2008 & 2011
Stage de danses à Girone (Es), 2011
Week-end de stage à Borzée (Be), 2004 & 2010
5 stages de danse pour Folk in Leuven, 2009
Week-end de danses pour jeunes pour Formaat à Dworp (Be), 2008
Stage pour Danspunt à Gand & Kruishoutem (Be), 2006 & 2007
Stage intensif au Boombalfestival à Lovendegem (Be), 2006 & 2007
AADTP (l'Association Ardennaise de Danses et Traditions Populaires) à Rethel (Fr), 2007 & 2009
Série de stages à Quevaucamps & Leuze (Be), 2004, 2005 & 2006
Stage pour 't Smiske à Asse (Be), 2005
Week-end de danses pour jeunes à Malle (Be), 2004
Stage à Aigues Vives (Fr), 2004
Stage pour MMM (Mens, Milieu, Muziek) à Kessel (Be), 2003
Ateliers lors de festivals de danse - Belgique et étranger
Fest-i-Bal & Tradballs à Lisbonne, Portugal, 2008, 2009, 2012, 2014, 2015
Le bal de l'Europe à Gennetines, avec accompagnement live par Snaarmaarwaar, Naragonia & I Fratelli Tarzanelli, France, 2010 - 2015
Festival Folk de Marsinne Couthuin, Belgique 2014
Festival Cadansa à Utrecht, Pays-Bas, 2012
Folkin'Ro Rhôde-Saint-Genèse, Belgique, 2005
Damada Le Mans, France, 2004 - 2009
Rencontres Internationales de Luthiers et Maîtres Sonneurs à St-Chartier France avec Naragonia, 2008
Le petit Bal des Gauthiers (Gennetines d'hiver) France, 2004 - 2008
Andanças Sao Pedro do Sul, Portugal, annuellement de 2001 - 2006 & 2010
Trad o Sud France, 2003
Initiations lors de bals, festivals et événements
Stage pour débutants, La scène nationale, Calais, France, 2 fois en 2014
Antwerpen danst op Kattendijk 2007, 2009, 2011, 2012, 2013, 2014
Folkadelic Sundays au El Dorado, Humbeek, Belgique, 2013 (2 x)
Manifiesta, Bredene, Belgique, 2012
Folklof au De Roma et dans la Spiegeltent à Antwerpen, Belgique, 2010, 2011, 2012
Fêtes de Gand (Baudelopark & FolkloF),
Stage de danses à Grandpré, France, 2012
Stages de danse pour l'académie de musique de Roeselare, Belgique, 2010, 2011 & 2013
Folkin'Ro Rhôde-Saint-Genèse, Belgique, 2005 & 2006
Puur Muziek au Arenbergschouwburg, Anvers, Belgique, 2004
Festival Plazey, Bruxelles, Belgique
Fête Nationale en collaboration avec Muziekpublique, Belgique
Bal der Bals, Belgique
Festival Na Fir Bolg , Vorselaar, Belgique, 2004
Bruxelles les Bains, Bruxelles, Belgique
Les fêtes sans fumeurs Dimensidansi à Anvers
...
Organisateur & programmateur de bals folk
Bal & Basta! 2 fois par an au centre culturel De Pianofabriek à Bruxelles, depuis 2005
Bal XL 5 fois par an au centre culturel De Maalbeek à Bruxelles, depuis 2009
Cocktailbal quelques fois par an au Casa de Carmen (Casa 32) à Anvers, depuis 2007
Consultant occasionnel pour les Queimadas de Muziekpublique, et autres bals
DJ Folk
A Cadansa (P-B), Padoue (It), Fest-i-Bal (Pt), Königsfeld (All), Folklof Fêtes de Gand & Folkadelic Sundays
Lors des practicas folk à Bruxelles, Anvers et Gand
Autres projets de danse
Bal DT: Coordinateur d'un bal folk avec musique live à l'occasion des 50 ans de l'AKDT à Libramont, 2012
Bal Global: Coordinateur d'un bal multiculturel avec orchestre mené par Wouter Vandenabeele, 2008 - 2010
Brussel danst, à l'occasion de la fête de la Communauté flamande, Grand'Place de Bruxelles, 2014
La Belgique danse en l'honneur à la présidence belge de la Communauté européenne, Grand'Place de Charleroi, 2010
Bal Moderne, 5 tournées dans des centres culturels au Portugal entre 2005 et 2010
La Belgique danse, le plus grand projet de Bal Moderne en l'honneur des 175 ans de la Belgique, Place Poelaerts, Bruxelles, Belgique, 2005
Koen Dhondt is één van de toonaangevende dansleraren voor de koppeldansen uit het West-Europese folkmilieu. Hij start op elfjarige leeftijd met internationale volksdansen, belandt daarna in de Vlaamse folklore, maar slaat een nieuwe weg in wanneer hij in 2001 het folkmilieu leert kennen in Portugal.
Sindsdien stelt Koen met zijn typische gedrevenheid alles in het werk om deze passie ten volle te beleven en ze te delen met anderen. Hij neemt jaarlijks deel aan verschillende internationale festivals en stages en bouwt zo een schat aan danservaring op. Verder verdiept hij zich ook in tango en danst mee op de podia van Bal Moderne.
Koen Dhondt heeft onmiskenbaar zijn stempel gezet op de ontwikkeling van de folkscene in België door sinds 2002 meer dan 3000 uur wekelijkse folkdanslessen en een groot aantal initiaties te geven.
Zijn universitaire opleiding Romaanse talen en zijn ervaring als taalleraar kwamen deze polygloot goed van pas om vele didactisch uitgebalanceerde dansstages en workshops te geven in 7 landen. Met gerichte oefeningen, concrete tips, aandacht voor details en aangepaste individuele correcties begeleidt Koen zijn leerlingen om het leiden en volgen vlot onder de knie te krijgen. Leuke groepsdynamieken, afwisseling in de methodieken, een eindeloos geduld en een vleugje humor zorgen er bovendien voor dat het leerproces op een aangename manier verloopt.
Met de vzw Frisse Folk die hij opricht, verrijkt Koen Dhondt het folkaanbod in de Belgische centrumsteden door het organiseren van een indrukwekkend aantal lessen en stages met binnen-en buitenlandse dansdocenten. Als artistiek directeur programmeert hij sinds 2005 kwalitatieve folkbals met voldoende aandacht voor specifieke traditionele repertoires. Ook wanneer hij als folkDJ optreedt, schept hij de perfecte omstandigheden voor een avond vol intens dansplezier
Wekelijkse danslessen
Meer dan 3000 uur wekelijkse danslessen sinds 2002!
Danslessen in Brussel, 2 avonden per week, 34 lesweken per jaar, non stop sinds januari 2002.
Danslessen in Antwerpen, 1 avond per week, 34 lesweken per jaar, bijna non stop sinds 2007.
Danslessen in Gent voor de vzw Boombal. 2003-2007
Intensieve dansstages in België en het buitenland
Een tiental dagstages per jaar, georganiseerd door Frisse Folk sinds 2008
1 week stage tijdens de AKDT (Académie d'été) in Neufchâteau (Be) ononderbroken van 2008 tot 2015
Weekendstage in Enschede (Nl) ononderbroken van 2007 tot 2015
Dansweekend in Milaan (It) 2015
Dansstage in Freiburg (Siebenschritt) & Konigsfeld (Dui) 2014
Weekendstage voor beginners in Libramont (Be) 2014
Dansstage bij Padova & Venetië (It) 2010 & 2014
Stage op viering 10 jaar Naragonia in Leuven (Be) 2013
Dansstages in Erlangen (Dui) 2013
Danspuntcoachings voor volksdansgroep Humbeek (Be) 2012
1 week intensieve Stage voor volksmuziek in Gooik (Be) 2011 & 2012
Reeks dansstages in Temse (Be) 2008 & 2011
Dansstages in Gerona (Sp) 2011
Weekendstage in Borzée (Be) 2004 & 2010
5 dansstages voor Folk in Leuven 2009
Dansweekend voor jongeren voor Formaat in Dworp (Be) 2008
Stage voor Danspunt in Gent & Kruishoutem (Be) 2006 & 2007
Intensieve stage voor Boombalfestival in Lovendegem (Be) 2006 & 2007
AADTP in Rethel (Fr) 2007 & 2009
Reeks stages in Quevaucamps & Leuze (Be) 2004, 2005 & 2006
Stage in 't Smiske in Asse (Be) 2005?
Weekendstage voor jongeren in Malle (Be) 2004?
Stage in Aigues Vives (Fr) 2004
Stage voor MMM, in Kessel (Be) 2003
Workshops op dansfestivals in België en het buitenland
Fest-i-Bal & Tradballs in Lissabon, Portugal 2008, 2009, 2012, 2014, 2015
Le bal de l'Europe à Gennetines, Snaarmaarwaar, Naragonia & I Fratelli Tarzanelli, Frankrijk 2010 - 2015
Folkfestival de Marsinne Couthuin, België 2014
Festival Cadansa Utrecht 2012
Folkin'Ro Sint-Genesius Rode, België 2005
Damada Le Mans, Frankrijk 2004 - 2009
Rencontres Internationales de Luthiers et Maîtres Sonneurs in St-Chartier Frankrijk met Naragonia, 2008
le petit Bal des Gauthiers winterversie van Gennetines, Frankrijk 2004 - 2008
Andanças Sao Pedro do Sul, Portugal jaarlijks van 2001 tot 2006 & 2010
Trad o Sud Frankrijk 2003
Dansinitiaties op bals, festivals en evenementen
Stage voor beginners in Calais, La scène nationale, 2x 2014
Antwerpen danst op Kattendijk 2007, 2009, 2011, 2012, 2013, 2014
Folkadelic Sundays in El Dorado, Humbeek 2013
Manifiesta, Bredene, België 2012
Folklof in De Roma en de Spiegeltent in Antwerpen, België 2010 2011 2012
Gentse Feesten (Baudelopark & FolkloF),
Dansstage in Grandpré (Fr) 2012
Dansworkshops voor muziekacademie Roeselare 2010, 2011 & 2013
Folkin'Ro Sint-Genesius Rode, België 2005 & 2006
Puur Muziek in Arenbergschouwburg Antwerpen 2004
Plazey
Nationale feestdag met Muziekpublique
Bal der Bals,
Na Fir Bolg Festival, Vorselaar 2004
Brussel Bad, …
Dimensidansi rookvrije fuiven Antwerpen
Organisator & programmator van folkbals
Bal & Basta! 2 maal per jaar in De Pianofabriek in Brussel, sinds 2005
Bal XL 5 maal per jaar in De Maalbeek in Brussel, sinds 2009
Cocktailbal enkele malen per jaar in Casa de Carmen (Casa 32) in Antwerpen, jaar sinds 2007
Occasioneel raadgever voor de Queimadas van Muziekpublique en andere bals
Folk DJ
in Cadansa (Nl), Padova (It), Fest-i-Bal (Pt), Konigsfeld (Dui), Folklof Gentse Feesten & Folkadelic Sundays
op folkpractica in Brussel, Antwerpen en Gent
Andere dansprojecten
Bal DT: Coördinatie van folkbal met live muziek ter gelegenheid van 50 jaar AKDT in Libramont 2012
Bal Global: Coördinatie van multicultureel bal met orkest geleid door Wouter Vandenabeele 2008 - 2010
Brussel danst, ter gelegenheid van de Vlaamse Feestdag, Grote Markt Brussel 2014
België danst ter ere van het EU-voorzitterschap van België, Grote Markt Charleroi 2010
Bal Moderne, 5 tournées in culturele centra in Portugal in de periode 2005 - 2010
België Danst, groots dansproject van Bal Moderne ter ere van 175 jaar België. Poelaertplein Brussel 2005
Teacher videos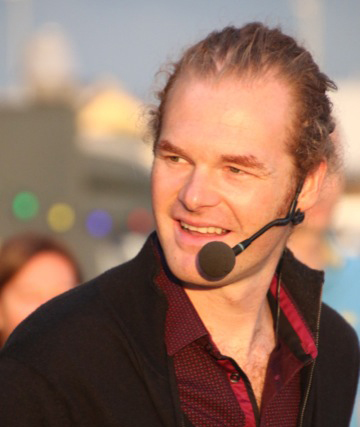 Dance classes
Workshops with this teacher